| | |
| --- | --- |
| Elliott Sound Products | MEV History |
---

Main Index

Counterfeits Index
---
Some time ago, I received this information from a reader. Several people have wondered about MEV branded transistors, and this should help with some history and identification. MEV was based in Hungary, and the main customer was the former 'Soviet Bloc' as noted below. It's worth pointing out that MEV did not last very long, and has not been operating for a long time. It is extremely unlikely that you'll find anything 'new' (including NOS) branded MEV that's genuine (from the original factory). The email is reproduced (almost) verbatim.
I am Balázs from Hungary, and I have just read your article about counterfeit products. There is a story about a bunch of 2N3773 transistors from MEV. The writer said, he had not heard about this manufacturer. Let's see some history!

MEV was a Hungarian factory in the 80's (Mikroelektronikai Vállalat, Microelectronic Company), which manufactured military and audio related products, transistors, ICs. The plant was in Budapest and was built in 1982, but unfortunately it was burned down in 1986, and (mainly because of the communism) they did not rebuilt it, although the insurer paid the money. Probably the fire was not an accident, in these years the government commit everything to ruin Hungarian industries. (Sorry to say it is true for the present, and not just for industries)

MEV manufactured transistors like 2N3055, BDY73, BC300, BC303, 2N2369 etc., ICs like ua741 and 747. These devices where more powerful than the originals, i.e. 2N3055 tolerate up to 140V on C-E; the BDY73 was a great choice for audio. In nowadays the audiophiles still search for this type, they say it sounds better than everything. Of course there is a little chance to find these devices, but if you are lucky, someone hold some of them in his loft. The sign was simple and easy to recognize, but it was really a paint, you could not remove it with acetone.

I am sure that we did not export anything to Canada, because of the communism, our market was mainly Russia, the Czech Republic, to say the Eastern block. It's a pity, that a factory uses our brand, if we can say this, but it is unambiguous that these devices are fake.
Balázs included some photos, reproduced below ...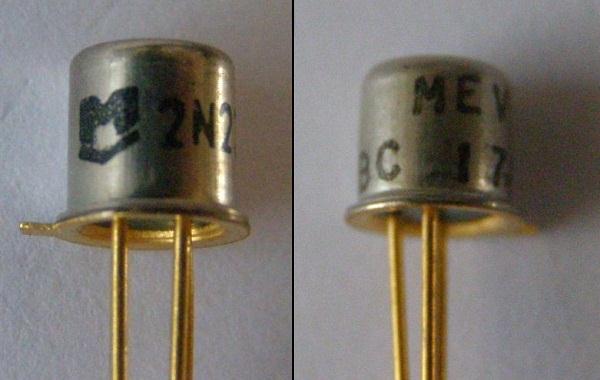 MEV 2N2369 (Left) and BC179 (Right) Small Signal Transistors
The fact that the leads of the small signal devices pictured are (or appear to be) gold plated is an indicator that MEV took care to make a quality product at the time.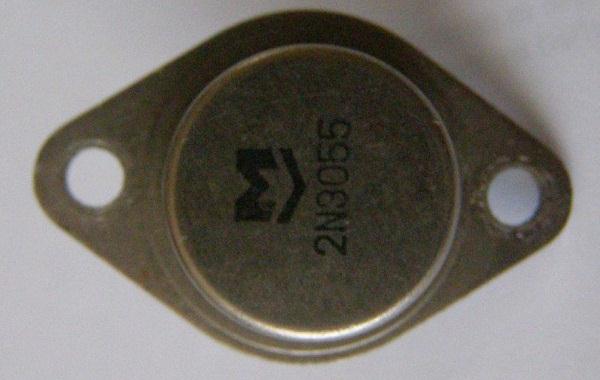 MEV 2N3055 Power Transistor
I hope this clears up any confusion about the original MEV company and its products. What happens now can only be guessed, but it must be noted that the original brand 'MEV' appears to have been hijacked by at least one Chinese manufacturer, and I know nothing about the parts being made now. Predictably, they are offered on a well known auction site as well as by a couple of on-line sellers. They might be ok, they may be complete rubbish - I do not know the answer.
---
---

Main Index

Counterfeits Index
Copyright Notice. This article, including but not limited to all text and diagrams, is the intellectual property of Rod Elliott, and is Copyright © 2012. Reproduction or re-publication is allowed due to the importance of ensuring that everyone should be aware of fake transistors and the history of MEV - which did not build fakes, but supplied the Eastern European market. Reproduction is allowed on condition that the name and URL of the original page and author (Rod Elliott) of the information herein is not removed or replaced.
Page created and Copyright (c) 16 August 2012 Rod Elliott.