| | |
| --- | --- |
| Elliott Sound Products | Abridged Transistor Specifications |
The following is a very small sample of the types currently available, but should be of some assistance when you have no idea what a particular device is supposed to do. For devices not listed here, you will need to do your own checking (either on the web, or elsewhere).
For basic case information, please see the case outlines at the end of this page. These are not complete (the old germanium devices are not represented), but the common ones are there. Note that some devices have different pinouts, depending on the sub-class of the case type. These are not accounted for in this list. There are also many common types that are missing - I will try to update the list as time permits.
NOTE: This is not a stock list - I do not sell any of these devices, so please don't ask.


| | |
| --- | --- |
| Terms | |
| Number | The type number of the device |
| Case | Case style (sub categories are not included) |
| Pol | Polarity - N=NPN P=PNP |
| Mat | Material - G=Germanuim S=Silicon |
| Vce | Breakdown voltage; Collector to Emitter |
| Vcb | Breakdown voltage; Collector to Base |
| IC | Collector current (in milliamps) |
| Vces | Saturation voltage (when transistor is fully on with specified current IC) (V) |
| Hfe | Current gain (minimum and maximum are shown at specified current IC) |
| FT | Frequency Transition - the frequency where gain falls to unity MHz) |
| Ptot | Total power dissipation in milliwatts (at 25 degrees C) |
| Use | The intended purpose - this is not a specification but a suggestion |
| | | |
| --- | --- | --- |
| | S.S. | Small Signal |
| | H.F. | High Frequency |
| | H.C. | High Current |
| | G.P. | General Purpose |
| | Sw | Switch |
| | O/P | Output |
| | V.H.F | Very High Frequency |
---
Bipolar Transistors
| | | | | | | | | | | | | | | |
| --- | --- | --- | --- | --- | --- | --- | --- | --- | --- | --- | --- | --- | --- | --- |
| Number | Case | Pol/Mat | Vce | Vcb | IC | Vces | at IC | Min Hfe | Max Hfe | at IC | FT | at IC | Ptot | Suggested Use |
| AC107 | GT3 | NG | 15 | 15 | 10 | - | - | 30 | 160 | 3 | 2 | 3 | 80 | Low Noise Audio |
| AC125 | TO-1 | PG | 12 | 32 | 100 | - | - | 100 | 100 | 2 | 1.3 | 10 | 216 | Audio Driver |
| AC126 | TO-1 | PG | 12 | 32 | 100 | - | - | 140 | 140 | 2 | 1.7 | 10 | 216 | Audio Driver |
| AC127 | TO-1 | NG | 12 | 32 | 500 | - | - | 105 | 105 | 300 | 1 | 10 | 340 | Audio O/P |
| AC128 | TO-1 | PG | 16 | 32 | 1000 | 0.6 | 1000 | 60 | 175 | 300 | 1 | 10 | 260 | Audio O/P |
| AC132 | TO-1 | PG | 12 | 32 | 200 | 0.35 | 200 | 115 | 115 | 50 | 1.3 | 10 | 216 | Audio O/P |
| AC187 | TO-1 | NG | 15 | 25 | 2000 | 0.8 | 1000 | 100 | 500 | 300 | 1 | 10 | 800 | Audio O/P |
| AC188 | TO-1 | PG | 15 | 25 | 2000 | 0.6 | 1000 | 100 | 500 | 300 | 1 | 10 | 220 | Audio O/P |
| AD149 | TO-3 | PG | 30 | 50 | 3500 | 0.7 | 3000 | 30 | 100 | 1000 | 0.3 | 200 | 32000 | GP O/P |
| AD161 | PT1 | NG | 20 | 32 | 3000 | 0.6 | 1000 | 80 | 320 | 500 | 0.02 | 300 | 4000 | Audio amp |
| AD162 | PT1 | PG | 20 | 32 | 3000 | 0.4 | 1000 | 80 | 320 | 500 | 0.02 | 300 | 6000 | Audio amp |
| AF114 | TO-7 | PG | 15 | 32 | 10 | 0 | 0 | 150 | 150 | 1 | 75 | 1 | 75 | H.F. amp |
| AF115 | TO-7 | PG | 15 | 32 | 10 | 0 | 0 | 150 | 150 | 1 | 75 | 1 | 75 | H.F. amp |
| AF116 | TO-7 | PG | 15 | 32 | 10 | 0 | 0 | 150 | 150 | 1 | 75 | 1 | 75 | H.F. amp |
| AF117 | TO-7 | PG | 15 | 32 | 10 | 0 | 0 | 150 | 150 | 1 | 75 | 1 | 75 | H.F. amp |
| AF118 | TO-7 | PG | 20 | 70 | 30 | 5 | 30 | 35 | 35 | 1000 | 175 | 10 | 375 | V.H.F. amp |
| ASZ15 | TO-3 | PG | 60 | 100 | 10000 | 0.4 | 10000 | 20 | 55 | 1000 | 0.2 | 1000 | 30000 | H.C. sw |
| Number | Case | Pol/Mat | Vce | Vcb | IC | Vces | at IC | Min Hfe | Max Hfe | at IC | FT | at IC | Ptot | Suggested Use |
| ASZ16 | TO-3 | PG | 32 | 60 | 10000 | 0.4 | 10000 | 45 | 130 | 1000 | 0.25 | 1000 | 30000 | H.C. sw |
| ASZ17 | TO-3 | PG | 32 | 60 | 10000 | 0.4 | 10000 | 25 | 75 | 1000 | 0.22 | 1000 | 30000 | H.C. sw |
| ASZ18 | TO-3 | PG | 32 | 100 | 10000 | 0.4 | 10000 | 30 | 110 | 1000 | 0.22 | 1000 | 30000 | H.C. sw |
| BC107 | TO-18 | NS | 45 | 50 | 100 | 0.2 | 100 | 110 | 450 | 2 | 300 | 10 | 300 | S.S. amp |
| BC108 | TO-18 | NS | 20 | 30 | 100 | 0.2 | 100 | 110 | 800 | 2 | 300 | 10 | 300 | S.S. amp |
| BC109 | TO-18 | NS | 20 | 30 | 100 | 0.2 | 100 | 200 | 800 | 2 | 300 | 10 | 300 | Low Noise s.s. amp |
| BC157 | SOT-25 | PS | 45 | 50 | 100 | 0.25 | 100 | 75 | 260 | 2 | 150 | 10 | 300 | S.S. amp |
| BC158 | SOT-25 | PS | 25 | 30 | 100 | 0.25 | 100 | 75 | 500 | 2 | 150 | 10 | 300 | S.S. amp |
| BC177 | TO-18 | PS | 45 | 50 | 100 | 0.25 | 100 | 75 | 260 | 2 | 150 | 10 | 300 | S.S. amp |
| BC178 | TO-18 | PS | 25 | 30 | 100 | 0.25 | 100 | 75 | 500 | 2 | 150 | 10 | 300 | S.S. amp |
| BC179 | TO-18 | PS | 20 | 25 | 100 | 0.25 | 100 | 125 | 500 | 2 | 150 | 10 | 300 | S.S. amp |
| BC182L | TO-92 | NS | 50 | 10 | 200 | 0.25 | 10 | 100 | 480 | 2 | 150 | 10 | 300 | S.S. amp |
| BC183L | TO-92 | NS | 30 | 45 | 200 | 0.25 | 10 | 100 | 850 | 2 | 150 | 10 | 300 | S.S. amp |
| BC184L | TO-92 | NS | 30 | 45 | 200 | 0.25 | 10 | 250 | 850 | 2 | 150 | 10 | 300 | Low noise high gain |
| BC186 | TO-18 | PS | 25 | 40 | 200 | 0.5 | 50 | 40 | 200 | 2 | 50 | 50 | 300 | G.P. amp |
| Number | Case | Pol/Mat | Vce | Vcb | IC | Vces | at IC | Min Hfe | Max Hfe | at IC | FT | at IC | Ptot | Suggested Use |
| BC207 | TO-106 | NS | 45 | 50 | 200 | 0.25 | 10 | 110 | 220 | 2 | 150 | 10 | 300 | S.S. amp |
| BC208 | TO-106 | NS | 20 | 25 | 200 | 0.25 | 10 | 110 | 800 | 2 | 150 | 10 | 300 | S.S. amp |
| BC209 | TO-106 | NS | 20 | 25 | 200 | 0.25 | 10 | 200 | 800 | 2 | 150 | 10 | 300 | Low noise high gain |
| BC212L | TO-92 | PS | 50 | 60 | 200 | 0.25 | 10 | 60 | 300 | 2 | 200 | 10 | 300 | S.S. amp |
| BC213L | TO-92 | PS | 30 | 45 | 200 | 0.25 | 10 | 80 | 400 | 2 | 200 | 10 | 300 | S.S. amp |
| BC214L | TO-92 | PS | 30 | 45 | 200 | 0.25 | 10 | 80 | 400 | 2 | 200 | 10 | 300 | S.S. amp |
| BC327 | TO-92 | PS | 45 | 0 | 1000 | 0.7 | 500 | 100 | 600 | 100 | 100 | 10 | 800 | O/P |
| BC337 | TO-92 | NS | 45 | 0 | 1000 | 0.7 | 500 | 100 | 600 | 100 | 200 | 10 | 800 | O/P |
| BC547 | SO7-30 | NS | 45 | 50 | 100 | 0.6 | 100 | 110 | 800 | 2 | 300 | 10 | 500 | S.S. amp |
| BC548 | SO7-30 | NS | 30 | 30 | 100 | 0.6 | 100 | 110 | 800 | 2 | 300 | 10 | 500 | S.S. amp |
| BC549 | SO7-30 | NS | 30 | 30 | 100 | 0.6 | 100 | 200 | 800 | 2 | 300 | 10 | 500 | Low noise s. sig |
| BC549C | SO7-30 | NS | 30 | 30 | 100 | 0.6 | 100 | 420 | 800 | 2 | 300 | 10 | 500 | Low noise high gain |
| BC635 | TO-92 | NS | 45 | 45 | 1000 | 0.5 | 500 | 40 | 250 | 150 | 130 | 500 | 1000 | Audio O/P |
| BC636 | TO-92 | PS | 45 | 45 | 1000 | 0.5 | 500 | 40 | 250 | 150 | 130 | 500 | 1000 | Audio O/P |
| BC639 | TO-92 | NS | 80 | 100 | 1000 | 0.5 | 500 | 40 | 160 | 150 | 130 | 0 | 1000 | Audio O/P |
| BC640 | TO-92 | PS | 80 | 100 | 1000 | 0.5 | 500 | 40 | 160 | 150 | 130 | 0 | 1000 | Audio O/P |
| BCY70 | TO-18 | PS | 40 | 50 | 200 | 0.5 | 50 | 50 | 50 | 10 | 250 | 50 | 350 | G.P. |
| Number | Case | Pol/Mat | Vce | Vcb | IC | Vces | at IC | Min Hfe | Max Hfe | at IC | FT | at IC | Ptot | Suggested Use |
| BCY71 | TO-18 | PS | 45 | 45 | 200 | 0.5 | 50 | 100 | 600 | 10 | 200 | 50 | 350 | G.P. |
| BCY72 | TO-18 | PS | 25 | 25 | 200 | 0.5 | 50 | 50 | 50 | 10 | 200 | 50 | 350 | G.P. |
| BD137 | TO-12G | NS | 60 | 60 | 1000 | 0.5 | 500 | 40 | 160 | 150 | 250 | 500 | 8000 | G.P. O/P |
| BD138 | TO-126 | PS | 60 | 60 | 1000 | 0.5 | 500 | 40 | 160 | 150 | 75 | 500 | 8000 | G.P. O/P |
| BD139 | TO-126 | NS | 60 | 100 | 1000 | 0.5 | 500 | 40 | 160 | 150 | 250 | 500 | 8000 | G.P. O/P |
| BD140 | TO-126 | PS | 80 | 100 | 1000 | 0.5 | 500 | 40 | 160 | 150 | 75 | 500 | 8000 | G.P. O/P |
| BD262 | TO-126 | PS | 60 | 60 | 4000 | 2.5 | 1500 | 750 | 750 | 1500 | 7 | 1500 | 36000 | High gain darl. O/P |
| BD263 | TO-126 | NS | 60 | 80 | 4000 | 2.5 | 1500 | 750 | 750 | 1500 | 7 | 1500 | 36000 | High gain darl. O/P |
| BD266A | TO-220 | PS | 80 | 80 | 8000 | 2 | 3000 | 750 | 750 | 3000 | 7 | 0 | 60000 | High gain darl. O/P |
| BD267A | TO-220 | NS | 80 | 100 | 8000 | 2 | 3000 | 750 | 750 | 3000 | 7 | 0 | 60000 | High gain darl. O/P |
| BDX64A | TO-3 | PS | 80 | 80 | 12000 | 2.5 | 5000 | 1000 | 1000 | 8000 | 7 | 5000 | 117 | Darl. O/P |
| BDX65A | TO-3 | NS | 80 | 80 | 12000 | 2.5 | 5000 | 1000 | 1000 | 8000 | 7 | 5000 | 117000 | Darl. O/P |
| BDY20 | TO-3 | NS | 60 | 100 | 15000 | 1.1 | 4000 | 20 | 70 | 4000 | 1 | 4000 | 115W | Power O/P |
| BF115 | TO-72 | NS | 30 | 50 | 30 | 0 | 0 | 45 | 165 | 1 | 230 | 1 | 145 | V.H.F amp. |
| BF167 | TO-72 | NS | 30 | 40 | 25 | 0 | 0 | 26 | 26 | 4 | 350 | 4 | 130 | T.V. I.F. amp |
| BF173 | TO-72 | NS | 25 | 40 | 25 | 0 | 0 | 37 | 37 | 7 | 550 | 5 | 230 | T.V. I.F. amp |
| BF177 | TO-39 | NS | 60 | 100 | 50 | 0 | 0 | 20 | 20 | 15 | 120 | 10 | 795 | T.V. video amp |
| Number | Case | Pol/Mat | Vce | Vcb | IC | Vces | at IC | Min Hfe | Max Hfe | at IC | FT | at IC | Ptot | Suggested Use |
| BF178 | TO-39 | NS | 115 | 185 | 50 | 0 | 0 | 20 | 20 | 30 | 120 | 10 | 1700 | T.V. video amp |
| BF179 | TO-39 | NS | 115 | 250 | 50 | 0 | 0 | 20 | 20 | 20 | 120 | 10 | 1700 | T.V. video amp |
| BF180 | TO-72 | NS | 20 | 30 | 20 | 0 | 0 | 13 | 13 | 2 | 675 | 2 | 150 | U.H.F. amp |
| BF184 | TO-72 | NS | 20 | 30 | 30 | 0 | 0 | 75 | 750 | 1 | 300 | 1 | 145 | H.F. amp |
| BF185 | TO-72 | NS | 20 | 30 | 30 | 0 | 0 | 34 | 140 | 1 | 220 | 1 | 145 | H.F. amp |
| BF194 | SOT25 | NS | 20 | 30 | 30 | 0 | 0 | 65 | 220 | 1 | 260 | 1 | 250 | H.F. amp |
| BF195 | SOT25 | NS | 20 | 30 | 30 | 0 | 0 | 35 | 125 | 1 | 200 | 1 | 250 | H.F. amp |
| BF200 | TO-72 | NS | 20 | 30 | 20 | 0 | 0 | 15 | 15 | 3 | 650 | 3 | 150 | V.H.F amp |
| BF336 | TO-39 | NS | 180 | 180 | 100 | 0 | 0 | 20 | 60 | 30 | 130 | 0 | 3000 | Video amp |
| BF337 | TO-39 | NS | 200 | 300 | 100 | 0 | 0 | 20 | 60 | 30 | 130 | 0 | 3000 | Video amp |
| BF338 | TO-39 | NS | 225 | 250 | 100 | 0 | 0 | 20 | 60 | 30 | 130 | 0 | 3000 | Video amp |
| BFY50 | TO-39 | NS | 35 | 80 | 1000 | 2 | 150 | 30 | 30 | 150 | 60 | 50 | 2860 | G.P. |
| BFY51 | TO-39 | NS | 30 | 60 | 1000 | 0.35 | 150 | 40 | 40 | 150 | 50 | 50 | 2860 | G.P. |
| BFY52 | TO-39 | NS | 20 | 40 | 1000 | 0.35 | 150 | 60 | 60 | 150 | 50 | 50 | 2860 | G.P. |
| MJ2501 | TO-3 | PS | 80 | 80 | 10000 | 2 | 5000 | 1000 | 1000 | 5000 | 0 | 0 | 150000 | Darl. O/P |
| MJ2955 | TO-3 | PS | 60 | 70 | 15000 | 1.1 | 4000 | 20 | 70 | 4000 | 4 | 500 | 115000 | High power O/P |
| MJ3001 | TO-3 | NS | 80 | 80 | 10000 | 2 | 5000 | 1000 | 1000 | 5000 | 0 | 0 | 150000 | Darl. O/P |
| Number | Case | Pol/Mat | Vce | Vcb | IC | Vces | at IC | Min Hfe | Max Hfe | at IC | FT | at IC | Ptot | Suggested Use |
| MJE2955 | 90-05 | PS | 60 | 70 | 10000 | 1.1 | 4000 | 20 | 70 | 4000 | 2 | 500 | 90000 | High power O/P |
| MJE3055 | 90-05 | NS | 60 | 70 | 10000 | 1.1 | 4000 | 20 | 70 | 4000 | 2 | 500 | 90000 | High power O/P |
| MU9610 | 152 | NS | 30 | 40 | 2000 | 0.4 | 1500 | 80 | 400 | 350 | 70 | 250 | 1000 | O/P |
| MU9611 | 152-01 | NS | 30 | 40 | 2000 | 0.4 | 1500 | 80 | 400 | 350 | 70 | 250 | 1000 | O/P |
| MU9660 | 152 | PS | 30 | 40 | 2000 | 0.4 | 1500 | 80 | 400 | 350 | 70 | 250 | 1000 | O/P |
| MU9661 | 152-01 | PS | 30 | 40 | 2000 | 0.4 | 1500 | 80 | 400 | 350 | 70 | 250 | 1000 | O/P |
| NSD106 | TO-202 | NS | 100 | 140 | 0 | 2.9 | 100 | 50 | 150 | 100 | 80 | 50 | 0 | Driver-O/P |
| NSD206 | TO-202 | PS | 100 | 100 | 0 | 2.1 | 100 | 50 | 150 | 100 | 150 | 50 | 0 | Driver-O/P |
| OC26 | TO-3 | PG | 30 | 50 | 3500 | 0.7 | 3000 | 30 | 100 | 1000 | 3 | 500 | 32000 | G.P. O/P |
| OC28 | TO-3 | PG | 60 | 100 | 10000 | 0.4 | 10000 | 20 | 55 | 1000 | 2 | 1000 | 30000 | H.C. switch |
| OC44N | TO-1 | PG | 5 | 15 | 10 | 0 | 0 | 45 | 225 | 1 | 7.5 | 1 | 85 | R.F. amp |
| OC45 | GT-3 | PG | 5 | 15 | 10 | 0 | 0 | 25 | 125 | 1 | 3 | 3 | 85 | R.F. amp |
| OC70 | GT-3 | PG | 10 | 30 | 50 | 0 | 0 | 30 | 30 | 5 | 5 | 0 | 125 | G.P. amp |
| OC71 | GT-3 | PG | 10 | 30 | 50 | 0 | 0 | 30 | 75 | 3 | 6 | 0 | 125 | G.P. amp |
| OC72 | GT-6 | PG | 16 | 32 | 250 | 0 | 0 | 45 | 120 | 10 | 35 | 0 | 165 | Audio O/P |
| OC74N | TO-1 | PG | 10 | 20 | 300 | 6 | 300 | 60 | 150 | 50 | 1 | 0 | 550 | Audio O/P |
| OC75 | GT-3 | PG | 10 | 30 | 50 | 0 | 0 | 60 | 130 | 3 | 1 | 0 | 125 | G.P. amp |
| Number | Case | Pol/Mat | Vce | Vcb | IC | Vces | at IC | Min Hfe | Max Hfe | at IC | FT | at IC | Ptot | Suggested Use |
| TIP31B | TOP-66 | NS | 80 | 80 | 3000 | 1.2 | 3000 | 20 | 20 | 500 | 3 | 500 | 40000 | Power amp - Sw |
| TIP32B | TOP-66 | PS | 80 | 80 | 3000 | 1.2 | 3000 | 20 | 20 | 500 | 3 | 500 | 40000 | Power amp - Sw |
| TIP2955 | TOP-3 | PS | 70 | 100 | 15000 | 1.1 | 4000 | 20 | 20 | 4000 | 8 | 0 | 90000 | Power amp - Sw |
| TIP3055 | TOP-3 | NS | 70 | 100 | 15000 | 1.1 | 4000 | 20 | 20 | 4000 | 8 | 0 | 90000 | Power amp - Sw |
| 2N301 | TO-3 | PG | 32 | 40 | 3000 | 0 | 0 | 50 | 50 | 1000 | 2 | 1000 | 11000 | Audio O/P |
| 2N706A | TO-18 | NS | 15 | 25 | 200 | 0 | 0 | 20 | 20 | 10 | 200 | 0 | 300 | High speed Sw |
| 2N2926 | TO-92 | NS | 25 | 25 | 100 | 0 | 0 | 150 | 150 | 2 | 100 | 0 | 200 | G.P. |
| 2N3053 | TO-39 | NS | 40 | 60 | 700 | 1.4 | 150 | 50 | 250 | 150 | 100 | 50 | 2860 | G.P. switch |
| 2N3054 | TO-66 | NS | 55 | 90 | 4000 | 1 | 200 | 25 | 25 | 500 | 8 | 200 | 25000 | Audio O/P |
| 2N3055 | TO-3 | NS | 60 | 90 | 15000 | 1.1 | 4000 | 20 | 20 | 4000 | 8 | 1000 | 115000 | O/P - Sw |
| 2N3563 | TO-106 | NS | 12 | 30 | 50 | 0 | 0 | 20 | 200 | 8 | 600 | 8 | 200 | RF - IF amp |
| 2N3564 | TO-106 | NS | 15 | 30 | 100 | 3 | 20 | 20 | 500 | 15 | 400 | 15 | 200 | RF - IF amp |
| 2N3565 | TO-106 | NS | 25 | 30 | 50 | 35 | 1 | 150 | 600 | 1 | 40 | 1 | 200 | Low level amp |
| 2N3566 | TO-105 | NS | 30 | 40 | 200 | 1 | 100 | 150 | 600 | 10 | 40 | 30 | 300 | GP amp & Sw |
| 2N3567 | TO-105 | NS | 40 | 80 | 500 | 25 | 150 | 40 | 120 | 1 | 60 | 50 | 300 | GP amp & Sw |
| 2N3568 | TO-105 | NS | 60 | 80 | 500 | 25 | 150 | 40 | 120 | 1 | 60 | 50 | 300 | GP amp & Sw |
| 2N3569 | TO-105 | NS | 40 | 80 | 500 | 25 | 150 | 100 | 300 | 1 | 60 | 50 | 300 | GP amp & Sw |
| Number | Case | Pol/Mat | Vce | Vcb | IC | Vces | at IC | Min Hfe | Max Hfe | at IC | FT | at IC | Ptot | Suggested Use |
| 2N3638 | TO-105 | PS | 25 | 25 | 500 | 25 | 50 | 30 | 30 | 50 | 100 | 50 | 300 | GP amp & Sw |
| 2N3638A | TO-105 | PS | 25 | 25 | 500 | 25 | 50 | 100 | 100 | 50 | 150 | 50 | 300 | GP amp & Sw |
| 2N3640 | TO-106 | PS | 12 | 12 | 80 | 2 | 10 | 30 | 120 | 10 | 300 | 10 | 200 | Saturated switch |
| 2N3641 | TO-105 | NS | 30 | 60 | 500 | 22 | 150 | 40 | 120 | 0 | 250 | 50 | 350 | GP amp & Sw |
| 2N3642 | TO-105 | NS | 45 | 60 | 500 | 22 | 150 | 40 | 120 | 150 | 250 | 50 | 350 | GP amp & Sw |
| 2N3643 | TO-105 | NS | 30 | 60 | 500 | 22 | 150 | 100 | 300 | 150 | 250 | 50 | 350 | GP amp & Sw |
| 2N3644 | TO-105 | PS | 45 | 45 | 500 | 1 | 300 | 115 | 300 | 50 | 200 | 20 | 300 | GP amp & Sw |
| 2N3645 | TO-105 | PS | 60 | 60 | 500 | 1 | 300 | 115 | 300 | 500 | 200 | 20 | 300 | GP amp & Sw |
| 2N3702 | TO-92 | PS | 25 | 40 | 200 | 25 | 50 | 60 | 300 | 50 | 100 | 50 | 360 | GP amp & Sw |
| 2N3904 | TO-92 | NS | 40 | 60 | 200 | 0 | 0 | 100 | 300 | 1 | 0 | 0 | 310 | Low level amp |
| 2N4250 | TO-106 | PS | 40 | 40 | 100 | 25 | 10 | 250 | 400 | 1 | 50 | 0 | 200 | Low level amp |
| 2N4258 | TO-106 | PS | 12 | 12 | 50 | 5 | 50 | 30 | 120 | 10 | 700 | 10 | 200 | Saturated Sw |
| 2N4292 | TO-92 | NS | 15 | 30 | 50 | 6 | 10 | 20 | 20 | 3 | 600 | 4 | 200 | Saturated Sw |
| 2N4403 | TO-92 | PS | 40 | 40 | 600 | 0 | 0 | 100 | 300 | 10 | 0 | 0 | 310 | G.P. |
| 2N5589 | MT-71C | NS | 18 | 36 | 600 | 0 | 0 | 5 | 5 | 100 | 175 | 3000 | 15000 | H.F. mobile R.F. |
| 2N5590 | MT-72C | NS | 18 | 36 | 2000 | 0 | 0 | 5 | 5 | 250 | 175 | 10000 | 30000 | H.F. mobile R.F. |
| 2N5591 | MT-72C | NS | 18 | 36 | 4000 | 0 | 0 | 5 | 5 | 500 | 175 | 25000 | 70000 | H.F. mobile R.F. |
| Number | Case | Pol/Mat | Vce | Vcb | IC | Vces | at IC | Min Hfe | Max Hfe | at IC | FT | at IC | Ptot | Suggested Use |
| 2N5871 | TO-3 | PS | 60 | 60 | 7000 | 1 | 4000 | 20 | 100 | 2500 | 4 | 250 | 100000 | Power |
| 40250 | TO-66 | NS | 50 | 50 | 4000 | 1.5 | 1500 | 25 | 25 | 100 | 1 | 0 | 29000 | Power |
| 40408 | TO-5 | NS | 80 | 0 | 700 | 1.4 | 150 | 40 | 200 | 200 | 100 | 0 | 1000 | Power |
| 40409 | TO-39 | NS | 80 | 0 | 700 | 1.4 | 150 | 50 | 250 | 150 | 100 | 0 | 3000 | Power |
| 40410 | TO-39 | PS | 80 | 0 | 700 | 1.4 | 150 | 50 | 250 | 150 | 100 | 0 | 3000 | Power |
| Number | Case | Pol/Mat | Vce | Vcb | IC | Vces | at IC | Min Hfe | Max Hfe | at IC | FT | at IC | Ptot | Suggested Use |
---
Case Information (Most common only)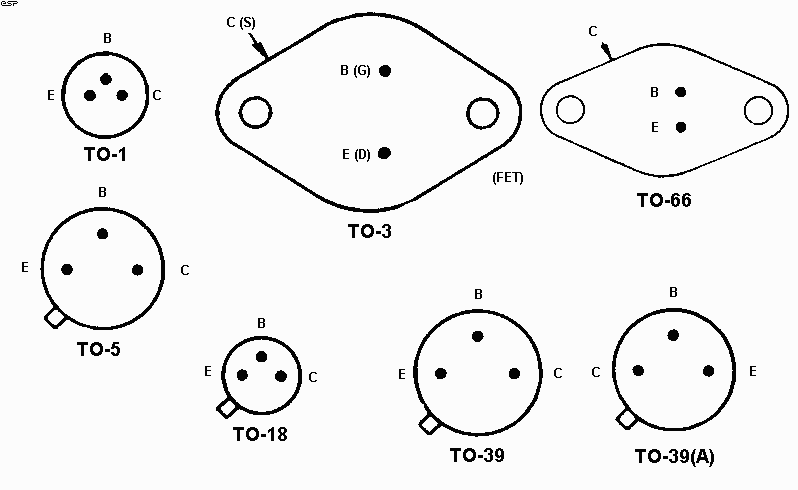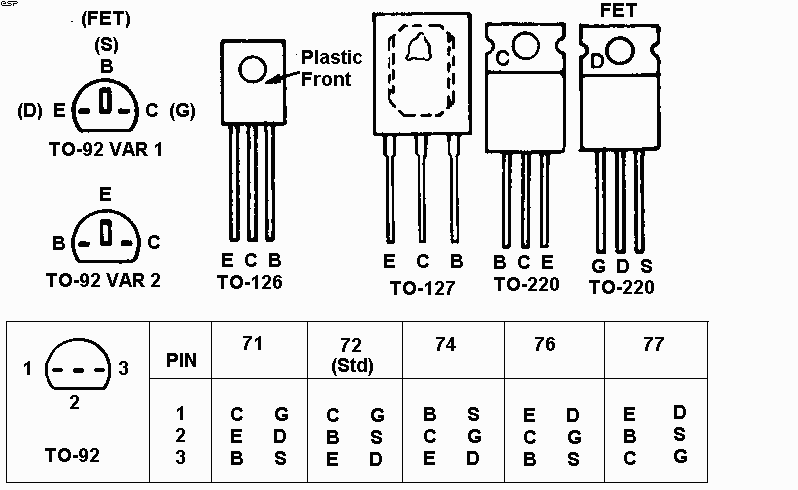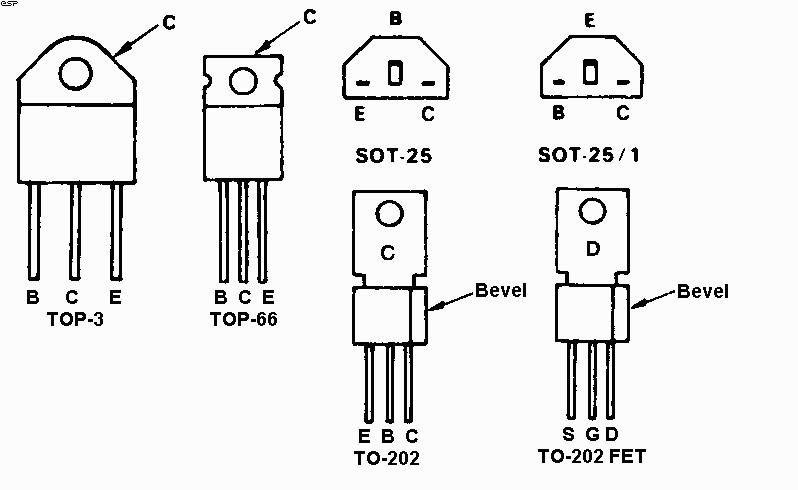 ---